Zimbabwe's Jewish community still needs assistance – May 2011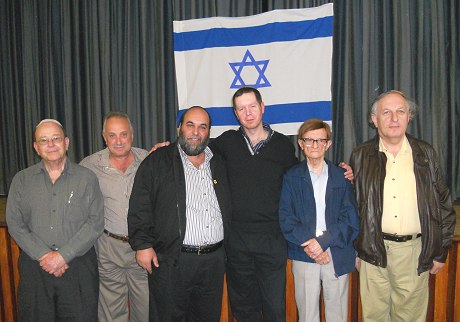 Peter Sternberg, vice President AJC; Phillip Hassan, president Sephardi Community; Rabbi Moshe Silberhaft; David Millard;
Sam Benatar, president Zimbabwe JBD; Arnold Joffe, president Harare Hebrew Congregation
The latest trends tentatively suggest that Zimbabwe may at last be in a period of recovery after years of economic turmoil. Despite this, there remains an ongoing need for Diaspora Jewry to assist many elderly members of the small Jewish community, particularly with essential medication still unobtainable in the country.
At the end of May Rabbi Moshe Silberhaft, Spiritual Leader and Executive Director of the African Jewish Congress, spent a Sunday in Harare to oversee the distribution of medication, as well as Israeli foods, brought across from South Africa. This was preceded by the AGM of the Harare Hebrew Congregation, which he also attended.
Following the AGM and distribution, Jewish community members gathered in the Rhodes Hall for a Yom Ha'atzmaut function. Sam Benatar, President of the Zimbabwe Jewish Board of Deputies, delivered the welcoming message and pledged, to great applause, the solidarity of the Zimbabwe Jewry to the State of Israel.
Rabbi Silberhaft and David Millard, a Christian Zionist activist for Israel who accompanied him to Harare, then addressed the audience. Millard, in addition to refuting some of the accusations commonly made against Israel, stressed the religious significance of its restoration as a Jewish state for believing Christians like himself.